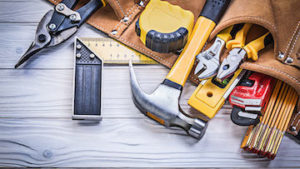 | | |
| --- | --- |
| Position: | Maintenance Technician |
| Job Location(s): | Primarily Madison, WI |
| Start Date: | Immediate |
| Employment Term: | Regular |
| Employment Type: | Full Time |
| Hours per Week: | 40 |
| Work Hours: | 8:00 am – 5:00 p.m. and on-call rotation |
| Starting Salary Range: | Commensurate with experience |
| Salary/Benefit Notes: | Eligible to participate in all employee benefits after completing the 90-day probation period. These include paid time off, health insurance, dental insurance, professional education reimbursement, vacation retirement plan, and holiday pay. |
| Required Education: | High School or equivalent. Maintenance certifications or Associate's degree a plus |
| Required Experience: | Three years minimum.  Apartment experience preferred |
Position Description
Job duties included, but not limited to:
Assist in preparing all vacant apartments to market ready condition as needed.  Respond to resident requests and work orders in a timely manner* (See "EXPECTATIONS" section below)
Perform on-call emergency service as required (rotation shared with other maintenance employees)
Accurately document time sheets, maintenance repair requests, and other checklists as assigned.
Report any maintenance concerns for repairs on vacant, models and common areas to administrative staff.
Periodic snow removal as assigned.
Assist property manger or maintenance lead on special projects (research on equipment, energy conservation, contract pricing etc). Assist Property Manager and Maintenance Supervisor to meet budget requirements for tools, equipment and repair items.
Works with staff to ensure the grounds and common areas are free of trash and debris.
Preventive maintenance tasks.
Responsible for the proper use of maintenance materials and equipment.
Consistently maintain a professional, courteous attitude when dealing with residents, co-workers and general public, on and off the property in order to positively promote the property and the management company.
Perform other job duties as assigned.
KNOWLEDGE AND SKILLS:
Basic knowledge of building maintenance principles including standard practices and methods of electrical, plumbing, carpentry, drywall, painting, appliance repairs and HVAC.
Knowledge of tools and equipment used in building maintenance such as but not limited to electric drill & saws, volt and gas meters, key machine, power drain cleaner (snake), ladders etc.
Ability to read and follow directions for tools, chemical use, assembly of furniture or other directions needed to complete assigned tasks.
EDUCATION AND WORK EXPERIENCE:
High school degree or equivalent preferred. Trade school or special training a plus.
At least 3-5 years maintenance experience preferably in a residential property setting preferred.
Exposure and training all areas of building maintenance (plumbing, electrical, carpentry, HVAC and painting).
LICENSES & CERTIFICATIONS & TOOLS:  
Valid Drivers license with good driving record and auto insurance. 
Hand tools needed to perform repair jobs such as screwdriver, wrench, cordless drill, hammers, socket wrenches, pipe cutter, utility knife, tape measure, pliers, multi-meter and chisel.
PHYSICAL REQUIREMENTS AND WORKING ENVIRONMENT: 
Inside and outside work in all types of weather
Prolonged or repeated standing, walking, climbing, stooping, kneeling, crouching, bending, twisting, lifting, pushing, pulling and carrying.
Frequent lifting, pushing, pulling and carrying up to 50 pounds and occasionally up to 100 lbs.
Ability to differentiate colors in terms of hue and ability to identify color.
May be required to travel to other properties or cover on-call duties at properties in the area.
EXPECTATONS: 
Complete all service requests within 24 hours (sooner if health or safety issue)
Participate in on-call schedule on a rotating basis:
Weekday on-call:  Must carry emergency cell phone beginning at 5:00 pm through 8:00 am the next day.
Weekend on-call:  Must carry emergency cell phone beginning at 5:00 pm Friday through 8:00 am Monday.
Emergency on-call must be ready any day of the week
Must respond to call within 5 to 10 minutes
Cannot be more than 20 minutes away from property unless approved by supervisor or company owner.
When responding:
Return answering service call within 10 minutes.
Call resident within 10 minutes to confirm situation and give estimated response time
Check in with office if it is open
Get identification on all lock outs to prove person is on lease
Keep good record for all on-call hours, unit numbers and service performed
Broihahn Management & Consulting, LLC (BMC) is committed to providing equal opportunities to all prospective and current members of the staff on the basis of individual qualifications and  merit.  We are committed to equal opportunity and do not condone discrimination in particular based on any federal, state or local protected class, including, but not limited to race, color, sex, religion, age, sexual orientati0on, handicap, or national origin. Our commitment also applies to all educational programs and activities.  BMC neither affiliates with nor grants recognition to any individual, group or organization having policies that discriminate. 
Should any of the above duties be preformed with a special accommodation, please discuss with the employer.